SUBSCRIBE ►HERE◄AND BE FIRST TO GET JIBBER JABBER'S DAILY TIPS!

Hi guys, if you have found your way here you probably already know I have been tipping profitably every year since 2012 and have gained a reputation for being helpful, ethical, charitable, genuine, professional, knowledgeable, and never talking BS. So, please believe I am being completely honest when I say:

"If you are not yet supporting me on Patreon you are missing out on a significant amount of additional profit."

As a Patron you now get early access to all my tips before they go on Twitter, OLBG, this site, or anywhere else meaning you always get on at early "value" odds like with these five massive-priced winners (pictured below) tipped at – 22/1, 25/1, 33/1, 40/1, & 40/1 – I managed to hit over just an 8 week period in 2022. Places at this Patreon Level are limited with not many remaining so you should sign up now before they're all gone.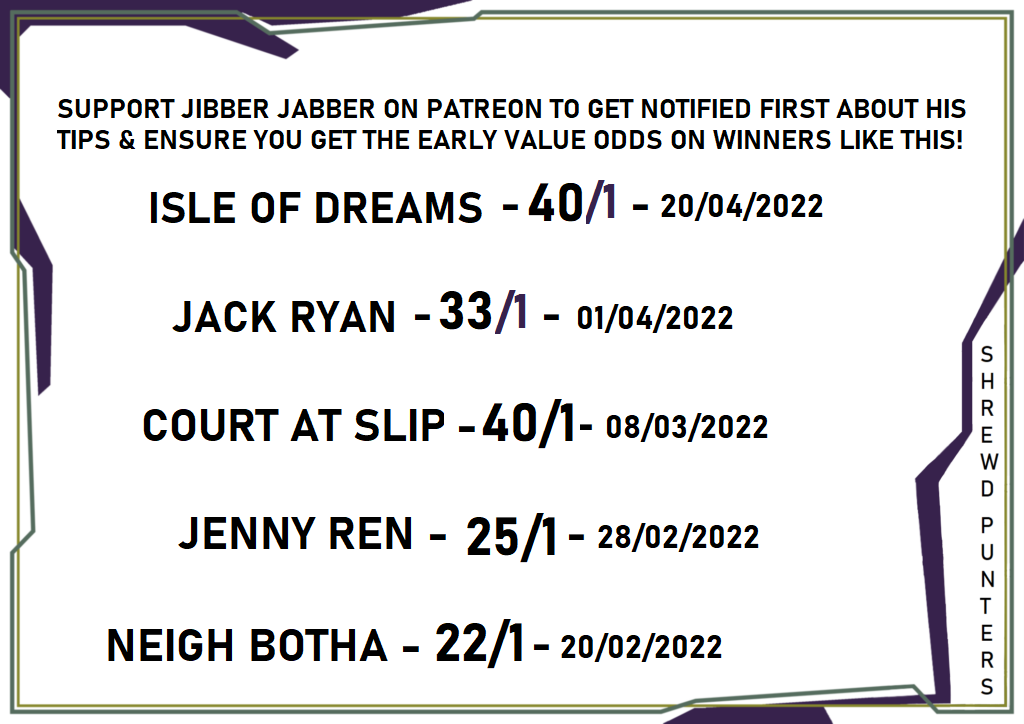 I understand you may be reluctant to donate monthly to access the information that will make you this "additional profit" but the feedback from the 200+ people who have already supported me on Patreon to date has been very positive. Plus, it is a bit of a no-brainer because, while I can't guarantee any one horse is going to win, I 100% GUARANTEE if you sign up to Patreon for a month and aren't completely happy you are making money or with the service I am providing I will send you a "FULL 100% NO QUIBBLE REFUND".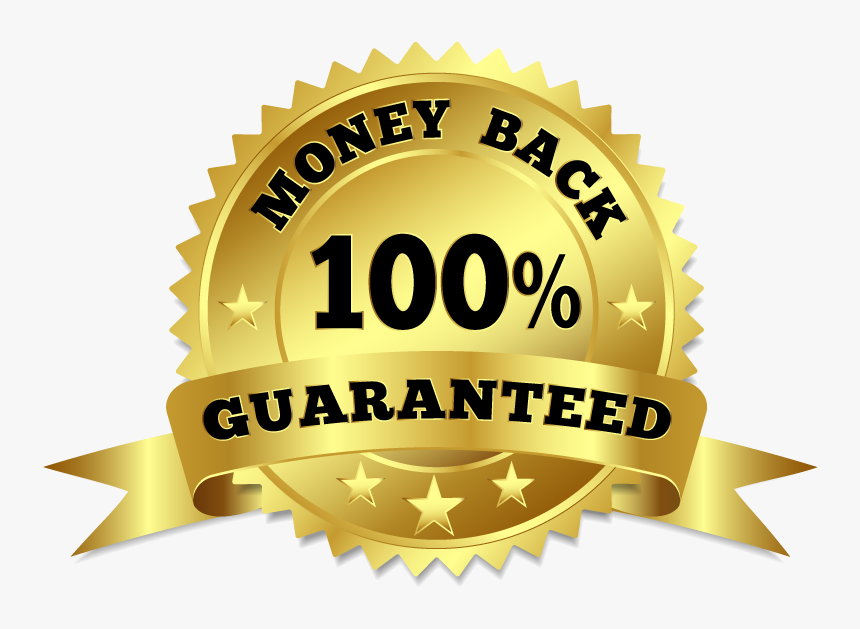 I want to reassure you I am not raising funds for personal profit but rather because I am trying to do something good, ethical, and different to help everyday punters like yourself. I need to procure capital to develop the website, to pay for staff wages, and the costs associated with doing business. Plus, tipping myself since 2012, I know most of the best tipsters in the industry and the plan is to start inviting some of them to "Guest Tip" on ShrewPunters.com to provide you guys with even more winning tips. It is my opinion that following a "portfolio" of profitable tipsters is the best way for busy people like you to make a long-term profit from horse racing.

For further information please read on or if I have persuaded you supporting what I am trying to do on Patreon is a WIN-WIN then please sign up now.

Simply put, I have set up a Patreon page because I have been chronically ill with Myalgic Encephalomyelitis since 2012 and my health is gradually deteriorating year on year. I am 53 now with an ailment which on average takes 20 years off your life so I have seriously started to think about my own mortality and leaving some kind of legacy. I would love that legacy to be this website developed and enhanced to give you many more of the tools and resources I use to help choose my winning selections. I have come to realise recently my health is at the stage where I need help to do this so I would like to, with the assistance of you my most loyal supporters, try to raise the funds to put a small team of people in place going forward as this will accelerate the process of me achieving my not too lofty goals and ambitions.

Patreon has also been set up by popular demand as countless punters and genuinely decent human beings, who have profited from my tips, have messaged me over the years asking how they could donate part of their winnings to me. Well now you can guys and I feel so fortunate to have the backing of kind-hearted, generous, people like you who are interested in what I do and hold me in high enough regard to contribute and – Become a Patron!

So, what is in it for you? Well, you will get early access to all my tips before they are published anywhere else. This alone should prove a long-term major benefit to you as it should ensure you always get your bets on before the odds shorten. Some punters even use the advantage of getting on at early prices to easily and quickly more than cover the cost of their Patreon donation by betting each tip then, when the price inevitably shortens after my tips are posted to around 100,000 plus followers on social media, accepting their bookmakers "cash out" offer often doubling what they have staked long before the races even start.

The picture below summarises what I'm trying to achieve but for an even more detailed page explaining what Patreon is for, how it all works, and bigger projects I'd like to take on please click here. Alternatively, if you love what I do and want to help then please visit me on Patreon to sign up.
If you love what I am trying to do here then please help…